Vr Mapping

ON-LINE REFERENCE DOCUMENTATION

CARDINAL SYSTEMS, LLC
Line Cross Z (LinCrz)
Type: Batch Application
Checks the elevations of common points on crossing lines.
Detailed Description
Searches lines in user-defined layers for common points on intersecting lines. The elevations of these points are compared and if out of range are reported in a drive file. These areas may be revisited later for repair using the drive file commands. When searching for intersections there must be a common point on each line for it to be considered.
Available Key-ins
| | | |
| --- | --- | --- |
| Key-in | Description | Range |
| PARFIL= | Load parameter file | Line Cross Z parameter file name (.lcz) |
| RUN | Run Line Cross Z | |
Parameters for Line Cross Z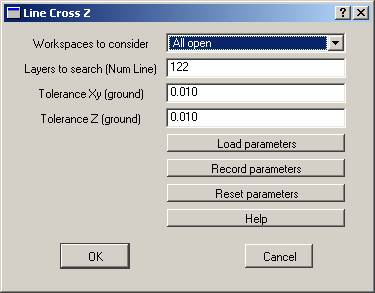 Workspaces to consider
Defines the workspaces to consider when running Line Cross Z.
Layers to search
Defines the layers to search for crossing lines. It is possible to check lines within the same layer and lines in different layers. Layers that are turned off will not be considered even if they are specified as a search layer.
Tolerance Xy
Line points that fall within this tolerance are considered common. Enter in ground units.
Tolerance Z
Common points with an elevation difference larger than this tolerance are considered mismatched. These mismatched point locations are placed in the drive file. Enter in ground units.