Vr Mapping

ON-LINE REFERENCE DOCUMENTATION

CARDINAL SYSTEMS, LLC
Stealth 3D Mouse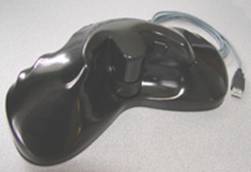 Description
The Stealth 3D Mouse provides an ergonomic, two-handed 3D input for VrTwo. The mouse has an optical XY motion sensor, a high-resolution Z wheel and 10 buttons. The standard Stealth 3D Mouse has two thumb buttons above the Z-wheel. The connection of the Stealth 3D Mouse requires a single USB port.
Installation
This is the original Stealth 3D mouse and is recognized by the Windows as a system mouse and requires no additional drivers. Simply plug the USB connector into any available USB port and Windows 2000/XP should automatically configure the mouse. NOTE: Never install the Kensington drivers that are available for the Stealth 3D Mouse. These drivers cause problems with the feel of the Z motion.
Since the Stealth Mouse is recognized as a system mouse, once it is connected there will be two mice available. Both are active and may be used at any time. The buttons on both the Stealth Mouse and the original system mouse may be configured to emit VrOne button codes.
The Stealth Z-Mouse is a newer 3D input device and differs from the original Stealth 3D Mouse in that it does not configure as a Windows mouse so when in operation the Windows mouse may be used for normal operations such as pulling down menus etc.
For more information about the Stealth 3D Mouse line of products including the Stealth 3D Mouse please the Stealth International web page. Stealth International provides a wide range of 3D input devices and offers sales and support of these products.
Configuration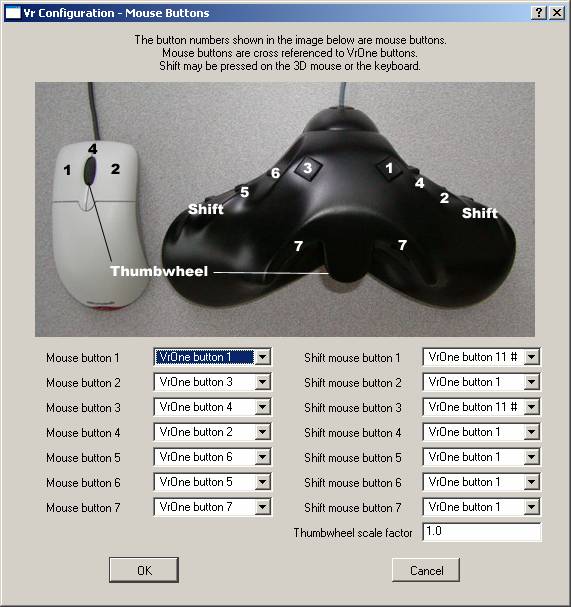 The Stealth Mouse and system mouse button assignments and thumbwheel scale factor may be configured with the Device Control (DevCon) command. This command may be executed anytime VrTwo is running. With the Shift keys, it is possible to cross-reference up to 14 VrOne buttons. The shift key is used to access 7 more buttons and it is also used as a clutch button which disengages the floating mark while the button is pressed.